When I was first approached to review the book, 'Biblical Beauty, Ancient Secrets and Modern Solutions' by Rachelle Weisberger, I was very intrigued. I thought it fell right in with the theme of my blog being both Christian Living and also beauty that I add in from time to time.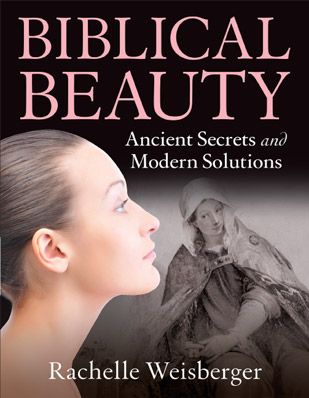 The author, Rachelle Weisberger is a Licensed Cosmetologist, Make-up artist and Skin care specialist.
I love hearing stories of the women in the Bible and this book is full of them. Not only are there references to the women of the Bible, there is history about them and what they most likely practiced for beauty-from make-up to skin care to sunscreen, there is a ton of knowledge in this beautiful book! It takes us all back to a time when women used to use natural methods for caring for themselves. I think this is wonderful for a time when more folks are looking to go natural and organic.
Any person who loves ancient history and modern beauty practices would find this book as fascinating as I did. What I love most about this book is the way it is easily organized into categories and how the author gives you a history of that section of beauty using a lady from the Bible and then has a chapter on modern beauty solutions and how some of the ancient solutions still apply even today!
There is a couple picture tutorials as well for doing several makeup techniques. I found this very helpful because I am very much a visual learner.
There is a wonderful chapter-by-chapter resource guide in the back of the book for more information as well as an index for quick look up.
This book truly is a treat! Its so unique, I cannot even think of another title I have even come across that would even be close to this exciting blend of history and beauty techniques. I love the author's view of beauty-it is not just physical beauty, but a blend of physical, spiritual and emotional. This book would make an excellent gift for Mother's Day for that special woman in your life!
You can purchase the book, 'Biblical Beauty, Ancient Secrets and Modern Solutions' from
Amazon
or directly from Rachelle Weisberger on her
website
(which by the way is a wonderful source to learn where Rachelle will be making appearances and see an interview from her about the book!)
Rachelle Weisberger was also very generous in offering one of my readers a chance to win a SIGNED hardcover copy of her book, 'Biblical Beauty, Ancient Secrets and Modern Solutions', a guide, '7 Ways to optimize your beauty potential' and a bookmark.
Just click "read more" to see the Rafflecopter form!
a Rafflecopter giveaway