How many times have you been digging around in your purse and gotten irritated, so you just dumped it contents looking for your keys? I know I do that quite a lot.
There is a solution, Ladies and it's called the GlitzSee!
The Glitzsee is wonderful because it is a small light that is motion activated, so all you have to do is shake your purse a bit and it turns on, lighting your way inside your purse.
My purse before:
After: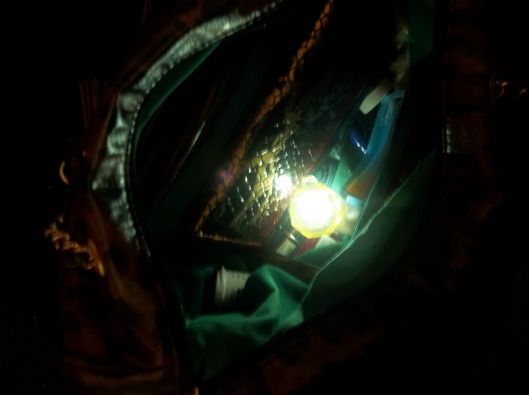 The GlitzSee even has a switch, so you can turn it off and on to save the battery. It also features a loop to hook it onto a clip to keep it somewhere. I thought about putting mine on my keys (if hubby and I didn't share the car haha) so I could have a light to find a lock in the dark.
The GlitzSee really lights things up. This little "gem" is super bright.
The GlitzSee comes in 3 colors: Amethyst, Aquamarine and Topaz. It retails for $15.95 and can be bought on GlitzSee's
website
or by calling 1-888-553-0188