If you read my previous post on Friday, you will see that I was participating in a Blogathon Bash!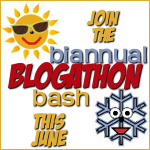 I made goals for the weekend and was required to put in at least 24 hours (in total, not straight!) of time into my blog. Boy did I ever! After adding up my hours for my weekend, I pulled an amazing 42.5 hours! I plan on being up at least another hour and a half, so I should be able to reach 44 hours! *TAKES BREATHER*
What did I do you may ask?
Well, Here is what my goals were at the beginning:
1. I will get caught up on my backlog of reviews
(
I did an amazing 6 reviews in just one weekend!
)
2. I will clean out my email and make it flow better so I can be more effective at blogging
(
done and done! I added contacts to my contact list, deleted old emails, narrowed down what was really important and organized into files!
)
3. I will organize my review items so they are in one neat place, not scattered around my house. (
I did this as well! Check it out:
4. I will organize my desk area (
did! Check out the before and after!: You can't really tell much, but trust me, it is a TON better than the pigsty it was. I am embarrassed it looked that way. No wonder I never got much work done!)
5. I will brainstorm ideas to write posts on
(
Did this as well. I even created a notebook to put them in so whenever I have a writer's block, I can go back to it!
)
6. I will participate in many of the mini-challenges that are set up for the event.
(
Can you believe I did 17/21 of them?!
)
7. I will write at least 5 non-review related posts and schedule them.
(
I actually did 6!
)
8. I will create a list of winners and reviews/giveaways for my blog so my readers can find them in one easy spot
(
Did not get to this yet, but that is what I am about to do!
)
I also did some extra stuff that was not on my goal list:
~Made a pitch post for finding a sponsor for Bloggy Con. I figured out what I could offer sponsors and made 4 different tiers. I also pitched all the companies I had worked with.
~Worked a bit on my media kit page by adding a privacy policy
~Cleaned up a couple posts
~Pitched some more companies
~Researched some on topics to write about
All in All, I think I got a TON done and I am very proud of myself! I learned so much and I am so happy I got to participate in this! I recommend any blogger-new or seasoned participate in Blogathon Bash!